WE ARE HERE TO HELP!
Connection to Community Resources

Timetable Questions/ Changes

Workshops and Seminars (including post-secondary presentations and application seminars)

Wellness and Well-Being

Office Hours and information about booking appointments will be posted to grade level campus' next week
2021/2022 Course Selection Information (Grades 9-12)
Course selection opens on February 16, 2021 for all DDSB students (home school and DDSB@Home learners). Please click on the tabs below to find resources for your grade and home school.
DDSB@Home - Secondary students can direct questions to their grade level guidance counsellor.
Students must attend the home school in their local area. Not sure what Home School you are assigned to?
Use the
School Locator
feature to find your school.
Current Grade 9 - 12 Students - Course Selection Information
Course Selection will be completed through My Blueprint beginning on February 16. Students will be selecting courses based on the offerings of their Home Schools. Click on your home school for more information about course selections. These pages will be updated as DDSB@Home staff receive information from the home school guidance departments.
If you have questions about course selection, please email your grade level counsellor. Email addresses can be found on the DDBS@Home grade level google classrooms.
Grade 9:
Ms. Provost - last names A to K
Ms. Nicholls - last names L to Z
Grade 10:
Ms. Igel - last names A to K
Ms. Dodu - last names L to Z
Grade 11:
Ms. Pearson - last names A to K
Ms. Dearn - last names L to Z
Grade 12:
Ms. Forbes - last names A to K
Ms. Younger - last names L to Z
DDSB Student Transition Guides
Choosing My Success - Planning for Grade 9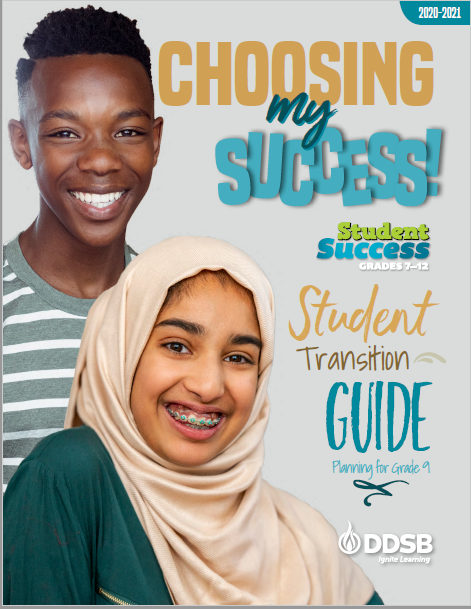 Refining My Pathway - Planning for Grades 11 and 12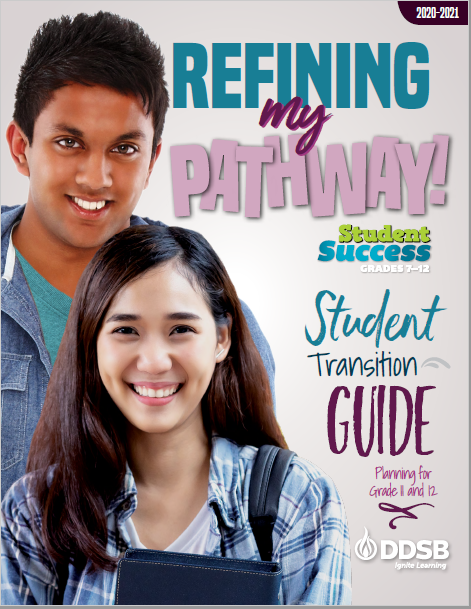 Designing My Future - Planning for Your Initial Post-Secondary Destination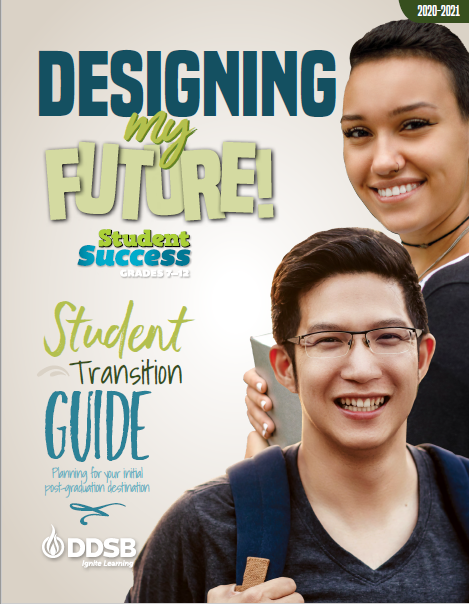 DDSB Secondary School Websites
Graduation Planning
What do you need to graduate from high school?
Durham Alternative Secondary School
Grade 11 and 12 students who are interesting in looking to attend Durham Alternative Secondary School should contact their grade level counsellor to discuss and plan.
Frequently Asked Questions
Where can I find out about what courses I can pick in my course planner?
Click on the link to your home school under the "DDSB Secondary School Websites" tab. DDSB@Home counsellors will be updating this frequently, as resources from home schools are shared with us.
How can I get course selection support from a guidance counsellor?
Grade level counsellors will be available during open office hours twice per week during the lunch hour. Counsellors encourage you to pop by these sessions to ask quick or general questions. If you require more guidance or have more complicated questions, email your name and contact number to your assigned counsellor. The counsellor will email you back to confirm an appointment date and time.
What is the deadline to submit course selections?
You must submit your course selection by the home school's published deadline. Students who submit after the deadline will have courses selected for them by their guidance counsellors. Home schools will be using student courses selections to build the timetable for next year. Students who submit courses by the deadline will have equal consideration for registration in a course.
How can I access MyBlueprint?
There are instructions and help documents posted to each grade level classroom. Use the following instructions to access myBlueprint:
Visit www.myBlueprint.ca/ddsb
Click 'School Account Log In'
Enter your school email/username and password
What if I am moving before September? How do I select courses for my new home school?
You must pick courses for your current home school. Students can only select courses at another school once they have officially registered with that school. If you are moving, you must check the registration procedures for your new school.
What are some helpful websites to research post-secondary options?
There are a variety of resources posted to each grade level classroom. In addition to this, you may want to look at the following websites outlining options for college and university programming in the province of Ontario.
www.ontariouniversitiesinfo.ca
If you are interested in exploring opportunities in the trades, through apprenticeship or the workplace - please email your counsellor. Counsellors would be happy to help you start your research.
I have questions about my IEP and supports. Who can I talk to?
Questions about IEP's can be directed to Inclusive Student Service staff. Please see the staff listing on the grade level classroom for contact information.
How and when do I register for summer school?
Students will register for summer school courses through the My Blueprint website. Counsellors will approve summer course requests. Generally, summer school registration opens in April or May. More information will be posted to the grade level classrooms as it becomes available. You can also check www.dce.ca for more information.
Important Updates - updated February 8, 2021
Guidance counsellors are working quickly to get through timetable requests. Students should have received an email confirming that their request has been made or that the timetable change was not possible.
Information and updates regarding timetable distribution and elective course timetable changes can be found on the Grade Level Google Classroom.
Guidance Open Office Hours for students
Open drop in office hours are available twice a week for each grade. The link will be live and posted to the grade level campus classrooms at 12:35 pm. Office hours will close at 1:15 to allow students enough time to get to their next class. The schedule is as follows:
Grade 9 - Monday and Wednesday
Grade 10 - Tuesday and Thursday
Grade 11 - Monday and Wednesday
Grade 12 - Tuesday and Thursday
Grade Level Google Classroom Codes
Students should join their grade level campus. Ask your teacher for your grade level code. Students who are already on their grade level campus do not need to add themselves again.
Guidance Clerical Support
Julie Tugnutt-Moir - Email
Phone: 905-862-5521 x5519
Guidance Frequently Asked Questions (FAQ's)
What awards, bursaries and scholarships can I apply to?
Awards, Bursaries and Scholarships
How do I do Career Planning?
Career Planning
How do I get information about Community Involvement Hours?
More Information on Community Involvement Hours - Please check your Grade Level Google Classroom for information on submitting your Community Involvement hours.
How do I know if I am on track to graduate?
Where can I find help with my homework?
Homework Help
How do I report a student absence?
Parents/guardians should report an absence by calling 1-844-350-2646 or by using the SchoolMessenger app.
I have a problem with my Chromebook. Who do I contact?
Chromebook issues must be reported to a students' classroom teacher. Please include the device serial number and a description of the issue when emailing your teacher. The classroom teacher will submit a help ticket to IT Services on your behalf.
Where can I find information about tutors?
Looking for tutoring, below you will find some resources to help! To choose a tutoring resource to best suit what your needs, please be sure to involve your parent/guardians. Parent/Guardians will be responsible for vetting tutor candidates of their choice.
Certified Teacher Tutors – please email your Guidance Counsellor for details.